Why choose an electric operated Poffertjes machine?
If it is not alowed to operate with a gas grill at any location.
Therefore, an electric Poffertjes plate could be your only option.
The main advantage of an electric Poffertjes machine is the setting of the temperature.
Set the temperature at your desired choise, and the thermostat will keep your machine at the chosen temperature.
Budget or quality poffertjes machines?
The cheap budget poffertjes machines from China have light weight baking plates
with a non stick coating.
For daily heavy use, better choose our professional machines.
---

Our available models:
25 holes – 220 volt 850 W dimensions: 17(H)x37,5x31cm weight: 6 kg
2 x 25 holes – 220 volt 1700 W dimensions: 17(H)x37,5x62cm weight: 10,7 kg
50 holes – 220 volt 1800 W dimensions: 17(H)x37,5x55cm weigt: 10,7 kg
100 holes – 220 volt 3000 W dimensions: 18(H)x60x55cm weight: 16,7 kg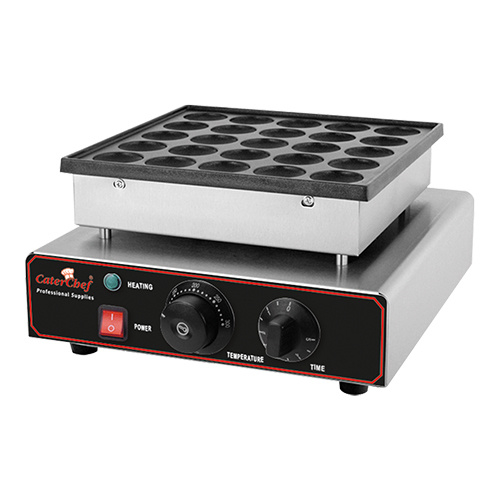 ---

Quality Poffertjesmachines are produced by our factory in Germany
and are fitted with heavy cast iron baking plates.
Suitable for daily intensive use.

We have two models available;
With 50 holes
and with 100 holes.
The 100 holes version can bet fitted with our dispenser system.
For other models we have a stainless steel hand held dispenser.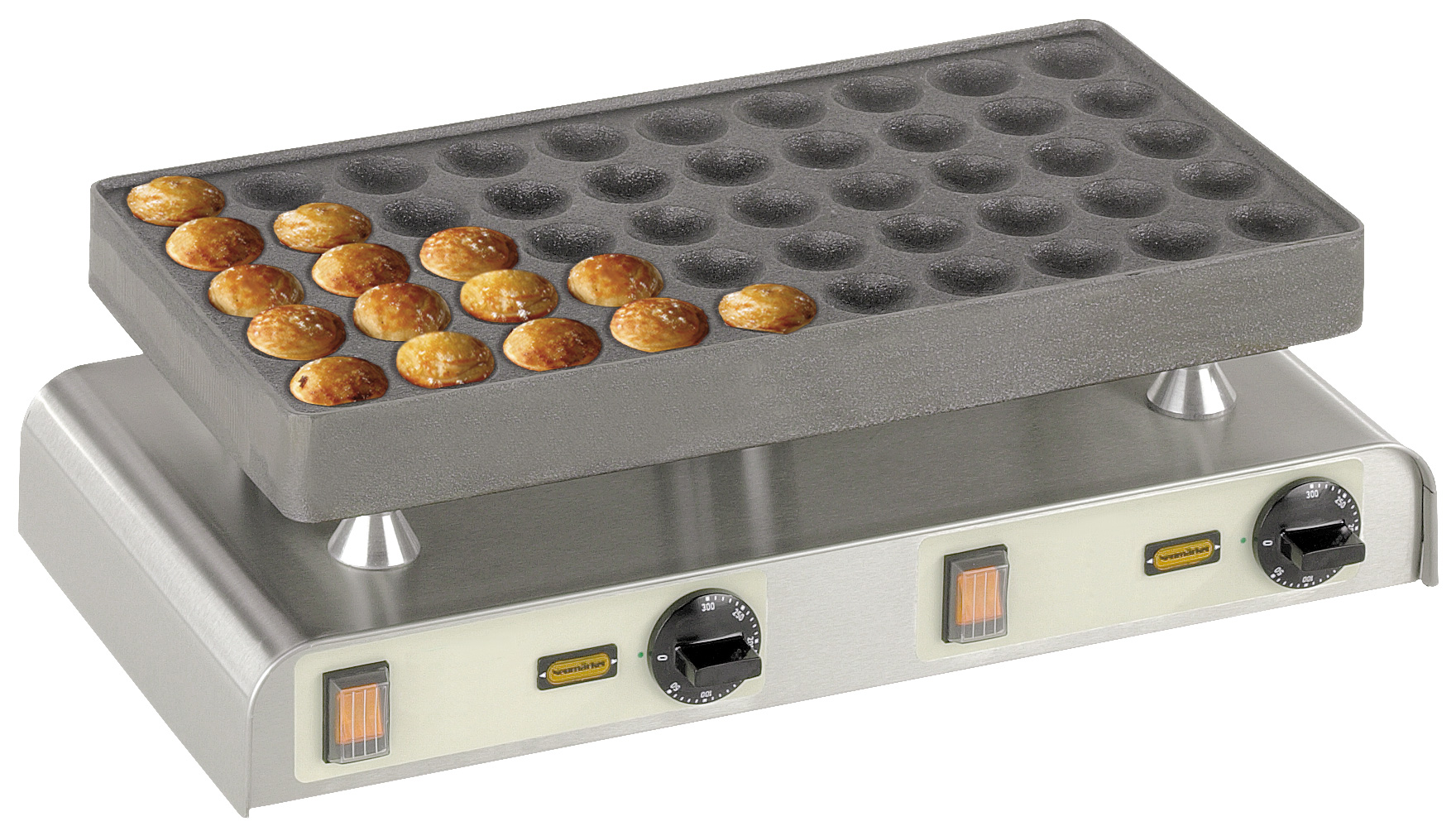 Technical data of the 50 holes Poffertjes machine:
Power: 230V / 2,2 kWDimensions: 570x330x200 mm
Weight: 24 Kg
Technical data of the 100 holes Poffertjes machine:
Power: 2 x 230 V – 2 x 2200 W
Dimensions: 570 x 590 x 200 mm
Weight: 34 kg
For information, prices or quotes
please contact us by email: info@vandemeester.com
To make a quote included the shipping costs we need the adress where to send your order.
All orders are send including insurance for care free ordering.